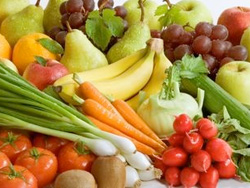 Some drugs can significantly lower cholesterol levels, especially LDL, the one considered to be the "bad" cholesterol. But do you ever think about the side effects these drugs can cause? If there's another option in lowering LDL, why not opt for that instead of popping medication? The answer is in the diet. There are many cholesterol lowering foods out there that should be eaten; it does not only provide you with nourishment, but it also combats those unwanted LDL.
New research suggests soy products and tree nuts can lower LDL. A study published in the Journal of American Association found out that those people who ate a healthy diet containing foods that lower cholesterol had a 13 percent decrease in their LDL cholesterol levels. Those who can't follow through completely with the diet because of added saturated fat still experienced a 3 percent decrease. Dr. David Jenkins, the lead author of the study and a professor of nutrition and metabolism at the University of Toronto said, "The main takeaway here is that people can lower their cholesterol with diet if they put their minds to it."
He created a diet called the "Portfolio Diet" that contains cholesterol lowering foods and heart disease preventing foods. The diet contains tree nuts, high amounts of fiber from oats, barley and you know it – vegetables (green leafy ones). This diet is said to replace butter and margarine and also meat (soy-based products will substitute meat which is necessary for protein.) Dr. Walter Willett, professor of epidemiology and nutrition at the Harvard School of Public Health said, "Replacing sources of saturated fat, such as red meat and dairy products, with sources of healthy fats, such as nuts and soy products will definitely have greater benefits than replacing red meat and dairy products with carbohydrates."
There is a bulk of evidence that shows the importance of fruits and vegetables, whole grains and fiber, lean poultry and fish in reducing the risk of cardiovascular disease. Some of the most highly recommended and easy to acquire cholesterol lowering foods among the enumerated groups above include brown rice, oats, soy, walnuts, beans, garlic, cinnamon, apple, grapes and salmon. As you may have noticed in the list, what makes up most of it is the fiber. Fiber cleanses the body, ridding it of unwanted fats. It is easy to digest and cleanses the digestive tract as it passes along. The list also doesn't contain any form of red meat as it is full of saturated fat.
However, it is not easy for meat eaters to comply with this diet but with perseverance comes the great result of having a healthy body. Those who have high LDL levels should start looking at ways of reducing it and one of the most effective way is through changing the diet. "Convincing people to change dietary patterns is difficult, much less convincing them to become vegetarians," said Dr. Jane Klauer, a New York internist specializing in metabolism and nutrition. "Change is difficult for people. But as they are rewarded with looking and feeling more vital, they are motivated to persevere."